Parcel mapping in Vermont is undertaken and overseen by each municipality, who may perform annual map updates on their own or hire vendors to maintain. VCGI does not create or maintain parcel data but instead coordinates the collection of the best available digital parcel data from municipalities in GIS format and publishes that as both a statewide layer and one for each municipality. VCGI also develops the data standards, templates, and digital parcel mapping guidelines by which digital GIS parcel data is organized and managed.
The Vermont Agency of Transportation (VTrans) is funding the creation or update of digital GIS parcel data for all of Vermont's municipalities in three phases over a three year period (2017-2019). This project will create a statewide, consistent, and up-to-date GIS database of currently documented parcel boundaries that is joinable with the grand list. This effort is overseen by the parcel advisory board.
Once the initial three year project is complete in December 2019, an ongoing maintenance program led by the Vermont Center for Geographic Information will support the annual updating of the data created by the project. VCGI makes digital parcel data available to all via download, (by municipality), web services, and online mapping applications. 
This page provides information about the initial three-year effort to develop the standardized, grand-list joinable data, as well as the ongoing maintenance program.
What is the Statewide Property Parcel Mapping Project?
A funded project to create or update parcel data (the mapping data that depicts ownership boundaries on tax maps, plus associated attributes, like SPAN) to meet the state data standard over 3 years and to establish an ongoing maintenance program to support annual updates to that data. 
Mapping contractors are chosen by the state to do the initial creation/update. Criteria for choosing which contractors work with which towns will include towns preferences and the ability of contractors to create mapping data that meet the state standard. 
A request for proposals was published in early 2017, seeking mapping contractors interested in working with multiple towns. We expect that about 1/3 of the state will be mapped each year for 3 years.
Why Statewide Property Parcel Mapping?
Parcel data support many kinds of mapping and analyses, including but not limited to:
Fair and Accurate Taxation and Reappraisal
Informed Community Planning and Economic Development
Targeted Natural Resource Conservation
Current parcel data varies from town to town in terms of content, age, and availability which makes it difficult to do mapping and analysis in some towns or across multiple towns. 
More simply, property ownerhsip is a foundational aspect of our society's organization and function. Having current, comprehensive and available property parcel data is thus a key part of this functioning.
Parcel Data Status
The following links open web maps that display the current status of parcel data made available to VCGI from municipalities.
Available Parcel Data - This map displays the best available parcel data VCGI has received from each Vermont municipality, its year, and whether or not it meets the state parcel data standard. Click on a town for more information and a link to download in GIS format.
Parcel Project Vendor Status - This map displays town vendor assignments in the 3 year parcels project (2017-2019).
Non-standardized parcel data for towns not yet complete by the statewide property parcel mapping project that VCGI has from dates prior to 2017 will be overwritten as each town is completed by the project throughout 2019.
Access Parcel Data
All available parcel data is provided to download, stream, and view at the Vermont Open Geodata Portal.
Example Uses of Standardized Parcel Data
There are multiple uses for grand list-joined, standardized parcel data statewide. The following images depict a growing set of examples.
Data Improvement and Integration
The Vermont Geological Survey is using parcel data for improving the accuracy of known well locations. In the above image, the well to the lower right originally had a questionable location in the Lye Brook Wilderness. By combining the information provided in the well completion report, grand lists, and spatial parcel data the location of the well is improved to match the parcel and structure where it was drilled. Image: Colin Dowey / Vermont Geological Survey
Commerce & Community Development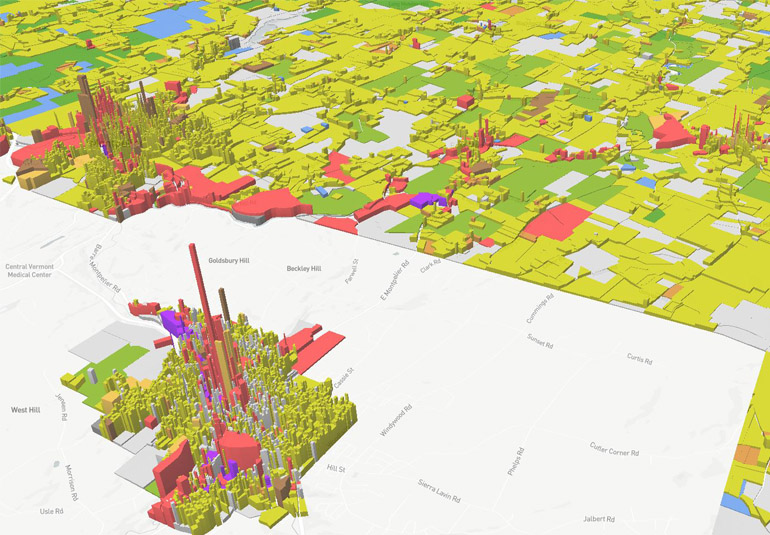 Standardized, grand-list joined parcel data enables the visualization of grand list fields, such as assessed value. In this image, common level of appraisal-adjusted assessed value of a parcel is shown relative to its size, depicting the normalized assessed value-per-parcel-per-acre, which is helpful for understanding everything from downtown investment to Vermont's economic geography.
Emergency Planning & Response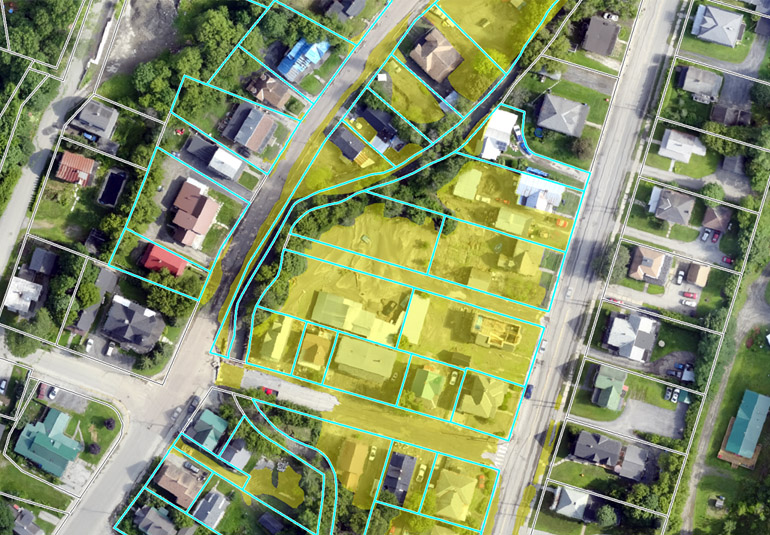 Parcel data can be overlaid with other spatial data such as FEMA's national flood hazard layer, clarifying who may be at risk due to extreme weather events as well which owners to contact. Image: UVM Spatial Analysis Lab
Regional Planning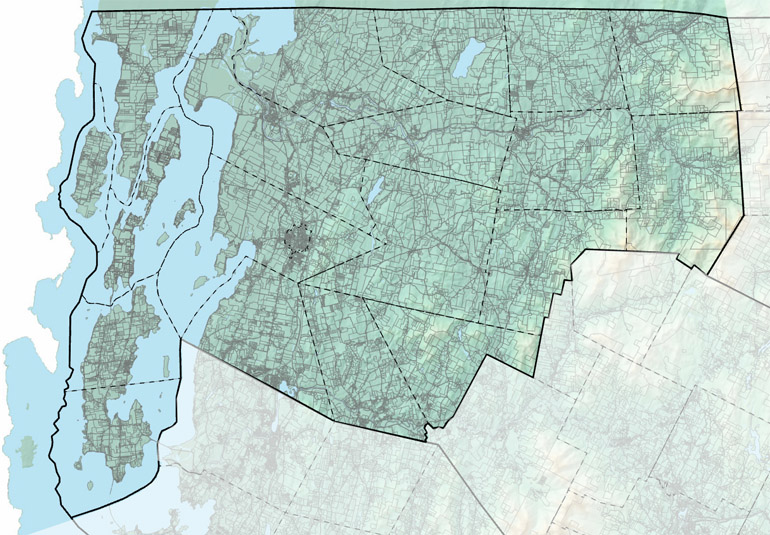 A consistent, comprehensive fabric of parcel data statewide enables Regional Planning Commissions to more effectively do their work by clarifying who owns what where.
Understanding Land Use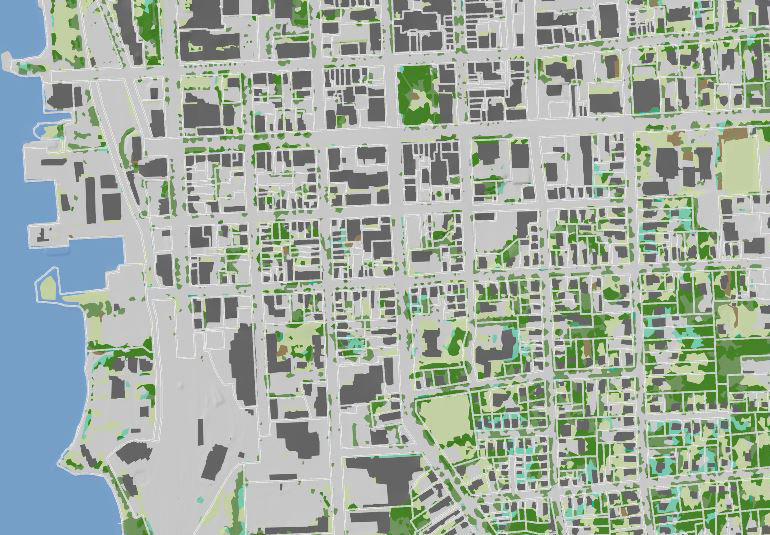 In addition to and combination with other statewide data, parcel data can begin to aid answers to land use and land cover questions in finer detail.
Municipal Planning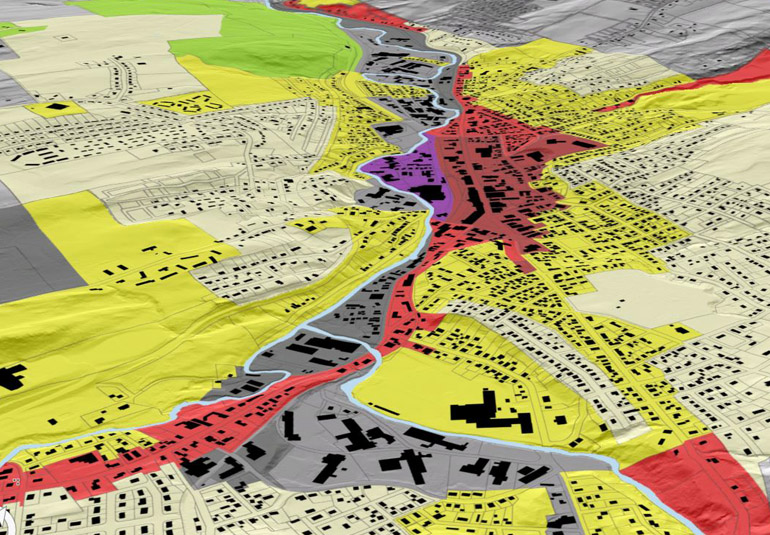 Standardized, digital parcel data in GIS format can be used by municipalities during the creation and update of their town plans and other instruments, and aid in understanding the effects of specific policies such as zoning.
Related Documents
History
Vermont's towns are responsible for determining the value of real estate owned within their boundaries and for taxing those properties.  For many years, land ownership information was of interest to the owners, neighbors, and town.
Today, information about land ownership and value is key to many public and private functions: regional planning, transportation planning and construction, state analysis of settlement patterns, taxation equity, and the impact of state programs, just to name a few.
The state of Vermont's parcel data (from a statewide perspective) has been inconsistent and fragmented. Some towns have been regular in updating parcel data, but many are either out of date or don't contain elements that make it easier to combine with neighboring towns, and a few towns don't have digital parcel data.
Beginning in the fall of 2013, representatives of state agencies, regional planning commissions, nonprofits (VLCT), and professional organizations (VSLS, VALA) have been meeting to discuss how to make consistent, up-to-date, statewide parcel data a reality in Vermont. That group eventually became the Enterprise Geospatial Consortium's (EGC) Parcel Workgroup. The efforts of that group and leadership at the Agency of Transportation and the Agency of Commerce and Community Development resulted in the Transportation Bill passed in 2016 by the Vermont Legislature containing language to create the Program (link to statute).
---
Questions?
For general program and data access questions, contact Parcel Project Municipal Contact and Program Manager Tim Terway at 802-585-0820.
For specific technical or data management questions, contact Parcel Project Technical Lead David N. Fox at 802-522-3054.