Airborne Light Detection and Ranging (LiDAR) technology is used to acquire high accuracy elevation data of the earth's surfaces. VCGI's Lidar program coordinates the collection, processing, and publishing of these elevation data and their derivative products that span the state of Vermont.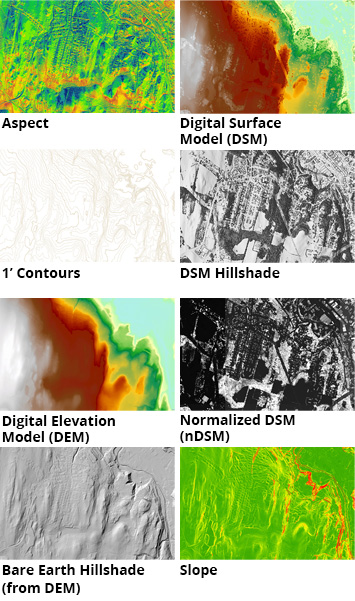 Example lidar-derived, statewide data products made available by the program include:
1 Foot Contours
Aspect (Orientation of Slope)
DEM Hillshade - rendered "bare earth" surface
DSM Hillshade - rendered surfaces of the earth including structures and vegetation
Digital Elevation Models (DEM) - the earth's surface without structures or vegetation
Digital Surface Models (DSM) - the earth's "top" surface including structures and vegetation
Normalized Digital Surface Model (nDSM) - depicts the difference between the surface (DSM) and bare earth (DEM) models, representing height of features
Slope - percentage slope
Lidar is also used to support the creation of other map products including statewide land cover, impervious surfaces, forest cover, and building footprints.
Lidar-derived products are made available in multiple formats, including as data downloads of individual tiles, streaming as map and image services, and as selectable layers in web applications such as the Vermont Interactive Map Viewer. Raw point cloud data we collect is made available via USGS.
Download Lidar Data
Vermont lidar data can be downloaded or streamed as as service, with a page for elevation products at the Vermont Open Geodata Portal.
Example Lidar Products
In addition to the lidar-derived elevation products listed above, statewide high resolution land-cover datasets that are partially derived from lidar will also be available as of mid-2019. A sample of these data products are below:
These datasets can also be viewed in 3D, enabling the visualization of elevation, building massing, land cover and other related spatial information as they were captured in 2016. For example:
Some lidar-derived data products may take advantage of advanced processing. For example, Google's Earth Engine, a tool for analyzing geospatial data, can process the statewide digital surface model (DSM) to display shadow location at a specified date and time.
More Lidar Resources
Lidar data can also be freely downloaded on the USGS National Map Viewer, which includes access to raw point cloud data (see the "How to" links at the top left of that page for download instructions if needed). Other sites with Vermont lidar data include the Open Topography Interactive Map,  and the NOAA Data Access Viewer. Learn more about USGS's 3DEP program, which supported the collection of Vermont's statewide lidar data, here.
Example Uses
The following list and slideshow represents a small sample of the uses of high resolution elevation data in Vermont.
Agriculture
Archeology & Historic Preservation
Construction
Dam Management
Design
Emergency Planning
Energy/Communications Planning
Erosion Assessment and Mitigation
Evacuation Planning
Farm-to-Plate Initiative
Fire Fuel Models
Flood plain Mapping  
Flow Analysis
Forestry, Biomass, & Vegetation Management
Gully Detection
Habitat Analysis
Hazardous Spill Analysis
Ice Jam Potential
Land Cover Mapping
Landslide Potential 
Line of Sight and Viewshed Analysis
Riparian Buffer Mapping and Protection
Shoreline Erosion
Soils Mapping
Solar and Wind Energy Suitability
Storm water analysis
Storm Water Flow Mapping On Crop Land
Timber Volume
Town Planning
Transportation Infrastructure
Updating FIRM to DFIRM