Digital aerial orthoimagery are photos that have been georectified and thus are useful representations of the earth's surface at a point in time. VCGI's Imagery Program oversees the collection and provisioning of high resolution, freely available georeferenced orthoimagery and other remotely sensed products throughout Vermont.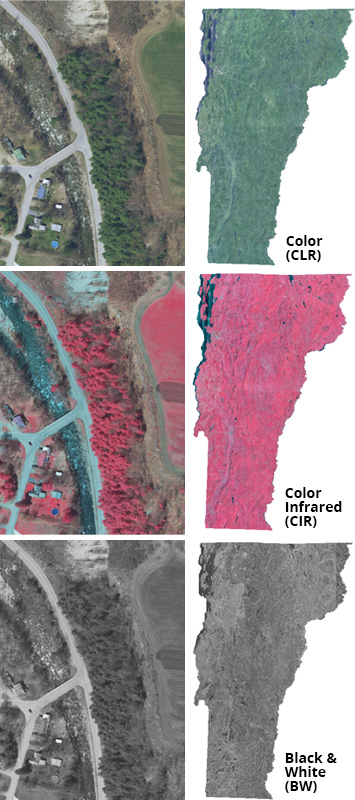 The Imagery Program currently collects and publishes aerial orthoimagery in three different types, each with their own respective uses:
Color - useful for general purpose mapping and realistic depiction of the surface
Color Infrared - useful for discerning vegetation types, differences in surface cover, water and sediment flows, and more
Black and White - useful as an underlay for maps with many layers and depictions of complex information
Timing
Digital orthoimagery is collected and processed annually for different sections of the state, aiming to complete the entire state in 5-year sections called "vintages". To view the status of the current vintage and its respective collections, check the ortho status web map. The general window for capturing orthoimagery is during the spring after the snowmelt, and before the deciduous trees "leaf-out" so as to provide a view of the surface unobstructed by leaves and without long shadows. This creates a product known as "leaf-off" imagery that has the best potential for a variety of uses.
Resolution
Each collection year and respective geography may be collected at different resolutions. For example, the 2018 collection contains imagery at both 30cm/0.3m and 15cm/0.15m resolutions for different locations, with the lower the number representing the higher the resolution. Older collections generally have lower resolutions, with a trend toward higher resolutions as time passes and technology improves.
Accessing Orthoimagery
History and Coverage
The first collection year for the digital imagery program was 1994, in which Black and White orthoimagery at 50cm/0.5m resolution is available for a portion of Vermont.  (The collection of analog orthophotos (ortho-rectified) started in the 70s.) Since 1994, there has been digital imagery collected to date in at least one type for every year except 1997 and 2002. All digital collections from 1994 to present day are freely available at the VT Open Geodata Portal. An overview of the geographic extent, type, and resolution of these colllections from 1994-2018 on a year-by-year basis is displayed in this animation: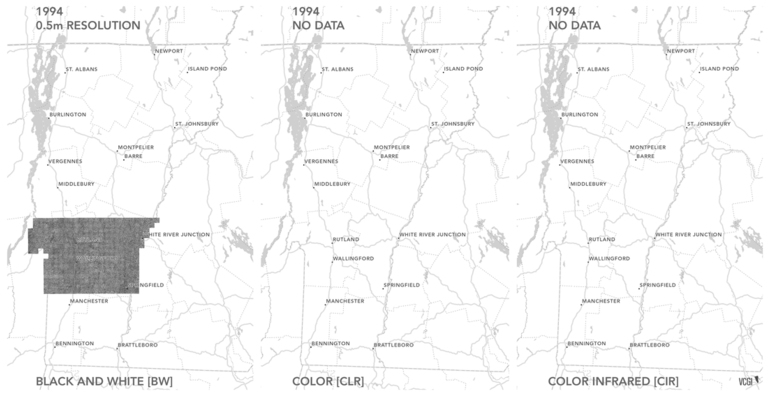 In part to reconcile the collection of only portions of the state every year, VCGI also makes available composite, "best of" service layers of the latest and greatest orthoimagery that covers the entire state.
Analog aerial photography of Vermont taken prior to the Imagery Program also exists. This imagery is by default not georeferenced and rectified, but VCGI does occasionaly take on the scanning, georeferencing, and publishing of historical analog aerial photography as time and resources permit. For example, select  tiles from 1942 and 1962 that have been georeferenced are available in the Open Geodata Portal. These images are useful for detecting landscape change, such as in this example from South Burlington / Shelburne:
---
Questions?
Contact VCGI's Imagery Program Manager Steve Sharp.