General
What is parcel data?
Parcel data is not a survey but rather a map index of property ownership. It consists of property ownership information (Grand List) joined with mapped property boundaries. Digital parcel data is easily distributed, is searchable, can be analyzed and applied for other uses.
Who is responsible for creating and maintaining parcel data?
Parcel mapping is undertaken and overseen by, and is ultimately the responsibility of each Vermont municipality, who may perform map updates on their own or hire vendors to do so. The Tax Department suggests that this should occur at least annually. VCGI does not create or maintain parcel data but instead coordinates the collection of the best available digital parcel data from municipalities in GIS format and publishes that as both a statewide layer and one for each municipality. VCGI also develops the data standards by which digital GIS parcel data is organized and managed.
In short, the parcel data published by VCGI is the best information made available to us from municipalities, and questions regarding its currentness, qualities or details should ultimately be directed to the respective town clerk. The Secretary of State maintains a list of town clerks at this page.
What is the statewide property parcel mapping project?
As property ownership is public information, the project focuses on making public parcel data that is collected and overseen by individual municipalities more publicly accessible and useful across the state. It specifies the digital standard for all of Vermont's municipal property records to be matched with the Grand List.
Why are standardized digital parcel data useful?
Clarifying who owns what lands where aids fair and accurate taxation, the provisioning of public services, community decision-making, real estate development, guiding and assessing public investments, land and resource conservation, and more. Parcel data in Vermont prior to the standardization project was uneven in quality, coverage, age, availability, and ease of use. Today, information about land ownership and value is key to many public and private functions: regional planning, transportation planning and construction, state analysis of settlement patterns, taxation equity, and the impact of state programs, just to name a few. All of these tasks are made easier and more effective by ensuring that parcel data is joined with the annual grand list.
How is the statewide property parcel mapping project funded?
The initial 3 year project (2017-2019) to join all Vermont municipalities' parcel data with the grand list is funded 80% by Federal Highway funds, and 20% by a match provided by numerous state agencies and departments.
What is funded by the project?
The project funds one annual update to digital parcel data per each Vermont municipality to bring it in compliance with the digital parcel data standard. The following activities to be performed by a mapping vendor awarded to each municipality through a competitive bidding process are funded by the project:
Communication with town officials and staff to gain a clear understanding of land records
Land Record Research
Scanning existing land records and maps
Acquisition of existing parcel data
In towns where no digital parcel data exists, the creation of that data
Updating parcel data based on information gathered from town officials and supporting land records for that respective grand list year
Creating an Extract, Transform, Load (ETL) tool which will convert the community's existing data to meet the State standard if the community does not maintain their data in the State Standard. This tool will be provided to the State by each vendor as a deliverable and will be available to the community for future data conversion.
Any transformation of data into the format required (GIS) for the state project using an ETL tool. Example: Converting CAD to GIS format
Communication with town officials to verify SPAN information and additional edits to achieve a 99% match of the Grand List records to the digital parcel data layer
What is not included in the statewide property parcel mapping project?
The parcel project does not include:
the cartographic development or update of tax parcel maps, whether they are paper or online (e.g. adding annotations, labels, symbolizing, etc.)
the development or annual payment for online parcel mapping application for a town
surveying for new linework
verifying the precise spatial location or accuracy of existing linework
providing access to existing surveys
unifying different town mapping practices (for public rights-of-way and contiguous ownership, for example)
reconciliation of mineral rights with at-grade ownership (e.g. two deeds assigned for the same parcel)
resolving town boundary discrepancies
We expect that some of these items may be improved in the future as a result of the three-year project, but they remain longer-term challenges with the upkeep of standardized parcel data that remains current, reliable, comprehensive, and ultimately, useful.
How does the project work?
The Agency of Transportation (AOT) will hire a number of mapping contractors (see list here) to update or create digital parcel data for all of the municiaplities Vermont in three phases over a 3-year period. Only contractors who meet AOT's eligibility criteria will be approved to work on this project. The criteria will include, but not be limited to, capacity to provide data products that meet the VT Parcel Data Standard.
Each contractor will be assigned by AOT to a town through a competitive bid process to do their parcel data development and the decision as to which towns they work in will take into consideration town preferences. Towns that have a preference for their contractor from the approved list should communicate that interest to VCGI.
AOT will pay the contractors directly for the work required by the project.  This is not a grant or reimbursement project. Towns will set up separate contracts with the mapping contractor of their choice to purchase additional products like paper maps and custom online maps if they wish also have those services provided. The cost for the additional products should be lower than usual due to the work paid for by the project, as there is some overlap in records research for parcel updates, for example.
What is the project's timeline?
10 Mapping Companies were contracted to work on this project during September of 2017.
Companies were assigned to phase 1 towns in November of 2017.
73 municipalities were completed with updated or newly created parcel data by mid-2018. These towns' parcel data is joined with the 2017 Grand List.
103 municipalities are assigned to phase 2 that began in August 2018 and are expected to be complete by the end of March 2018. These towns' parcel data are joined with the 2018 Grand List.
The remaining 79 municipalities will be assigned to phase 3 that will run from April 2019 through November 2019. These towns' parcel data are joined with the 2018 Grand List.
All 255 Vermont municipalities (including Gores, Grants, and unincorporated towns) are expected to have standardized, grand-list joined parcel data available by the end of December 2019, thus concluding the project stage of longer-term parcel program.
An up to date map view of which towns are placed within which phase is viewable here.
An up to date map view of which contractors are working with which town is viewable here.
The standardized, grand list-joined parcel data for completed towns is available to view in the statewide parcels viewer, and in the geodata portal as both datasets and web services. These data are published on a rolling basis after they are checked for quality, adherence to the parcel data standard, and are reviewed by the municipality.
Who oversees the parcels project?
The Property Parcel Advisory Board established by 19 V.S.A. §44. The Board is comprised of the Secretary of Transportation or designee, the Secretary of Natural Resources or designee; the Secretary of Commerce and Community Development or designee; the Commissioner of Taxes or designee; a representative of the Vermont Association of Planning and Development Agencies; a representative of the Vermont League of Cities and Towns; and a land surveyor licensed under 26 V.S.A. chapter 45 designated by the Vermont Society of Land Surveyors.
Are parcel data considered a legal field survey?
No. Parcels are a representation of property boundaries. They should not be used for property line disputes. A survey from a licensed land surveyor is the legal means of determining property boundaries. This is why applications such as the parcel viewer come with a disclaimer, which is worth restating here: Parcel data is general in nature and does not represent survey grade boundary information. Substantial inaccuracies in boundary lines or grand list attributes should be brought to the attention of the appropriate Town Clerk. While in some instances parcel data may reflect survey information, the recorded, signed and sealed survey that is filed with a town clerk remains the authoritative document.
If parcel data are only a reference, how do I obtain a legal plat of land?
Deeds and plats are available through the respective town clerk of the municipality in which the parcel is located. The Secretary of State maintains a list of town clerks available from this page. New surveys may be obtained by hiring a licensed surveyor. The Vermont Society of Land Surveyors maintains a list and map of survey professionals in Vermont.
What are the differences between "standardized" and "non-standardized" parcel data?
The short answer is that standardized parcel data in Vermont is joined with an annual grand list. Non-standardized data, the norm of parcel data before 2017, is highly varied in the information it contains, its coverage across the state, and is not joined with an annual grand list. The long (and more technical) answer is provided in the VT parcel data standard (v2.3), which is a GIS data standard adopted in 2016 and put to use from 2017-onward throughout Vermont by the Statewide Parcel Property Mapping project.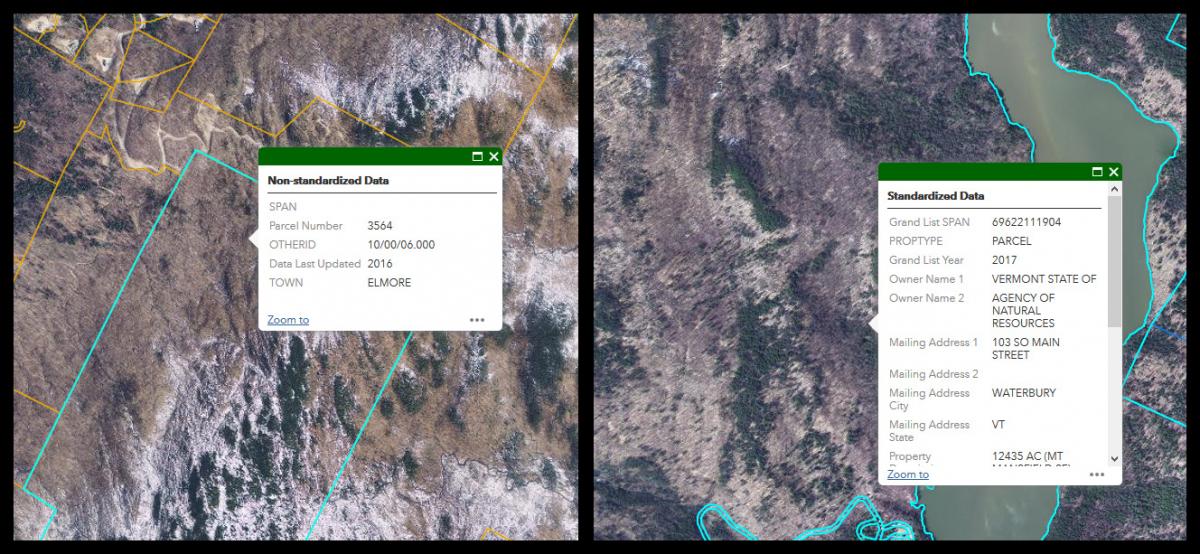 An example of "non-standardized" parcel data on the left, and "standardized" on the right. Parcel "standardization" involves making uniform the attributes associated with parcel map information such that they can be joined with the Grand List.
Are parcel data perfect and updated in real-time?
No. We do as well as we can to keep parcel data as up to date as possible. Still, the data is not 100% real-time. There is a delay between a property transfer, its recording in a town's parcel map data, our receipt of said data, its review for meeting the statewide parcel data standard, and ultimately its publishing within the parcel dataset. Parcel data is at best a starting point and guide to further information. When in doubt, please refer to both a ground survey and your town clerk for confirmation of the best and most currently available parcel information for a specific location.
For Users
How can I access and view Vermont parcel data?
The most direct way to view parcel data is within the standalone Vermont Parcel Viewer web mapping application. This application allows you to interact with the most current parcel data we have for each municipality across the state directly in your web browser. It contains features such as search by SPAN number or address, markup tools, and reporting. It specifies the year of the annual grand list join, where currently available.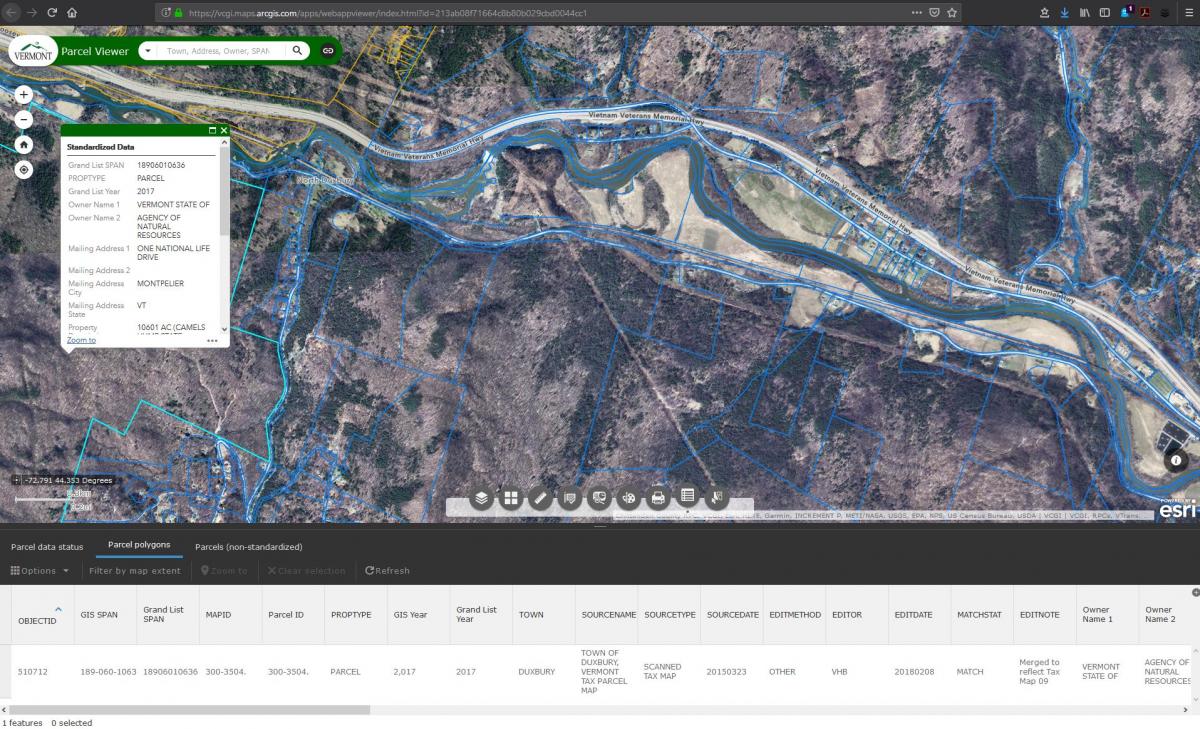 A screenshot of the Vermont Parcel Viewer, a web browser based mapping application that allows a user to view and interact with the best available parcel data available from VCGI.
Parcel data is also consumed by and viewable within other web mapping applications, including:
Parcel data and map services for use in both web and desktop applications are also available via the Vermont Open Geodata Portal.
What can standardized, grand list-joined digital parcel data be used for?
Here are a few examples of how parcel information that is joined to the grand list can be used:
Expedited property ownership research
Emergency management, such as in the case of flood mitigation.
Fiscal impact and real estate analyses on parcel-by-parcel basis by joining other information to parcel data.
Analysis and communication of public investments. Impacts of public investments may be tracked by viewing changes in assessed value over time.
Tracking and communication of related policy and permits. Combining parcel data with other spatialized data allows clarification of which policies and permits apply to what property owners where.
Public notifications can be generated by exporting a spreadsheet of select parcels and associated mailing information within the parcels viewer.
Land cover analysis to discern how much of a certain land cover type is found within specific properties.
Land use planning. For example, a town's parcel data can be combined with other map layers such as zoning data, building footprints, waterways, etc.
For Municipalities
How will the initial 3-year (2017-2019) parcel mapping project affect my town?
It depends:
If your town currently keeps your tax maps up to date and has digital parcel data that reflect those maps:

the project will fund the update of your data once in a year so that it meets the state data standard which allows joining to your annual grand list submitted to the state.

If your town hasn't updated your maps and/or digital parcel data recently:

the project will fund the update of your data once in a year so that it meets the state data standard which allows joining to your annual grand list submitted to the state.

If your town doesn't have tax maps or doesn't have digital parcel data:

the project will fund the creation of your parcel data once in a year so that it meets the state data standard which allows joining to your annual grand list submitted to the state.
Please note that this project will not fund the creation of paper tax maps or vendor-supplied online mapping applications.
Will municipal officials have the chance to review the data before it is published?
Yes. After a vendor has submitted their preliminary data to the state, either the vendor or VCGI will create a web-based map viewer for the town's parcel contact to review the information. Parcels with missing SPAN information will be symbolized in a specific way to aid in obtaining their SPAN information, which should then be submitted by the town to the vendor for incorporation. Inactive parcels should also be reviewed at this time. Towns are given 3 weeks to review the parcel data, and vendors are expected to incorporate changes that are submitted to them before the data is published as part of the statewide "standardized" layer.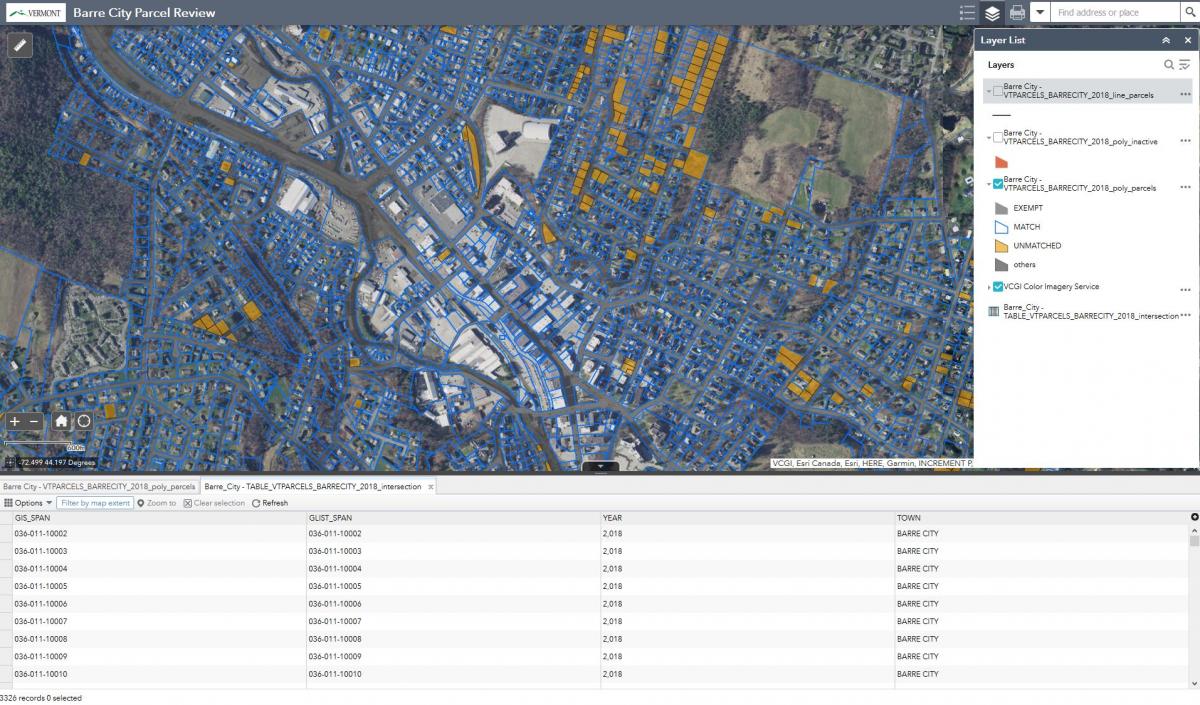 What should a town look for when reviewing data?
Relative to a grand list submitted to the state for that respective year, a town should check for:
Parcels with missing SPAN information. In other words, a municipality's grand list contains fewer entries than mapped parcels in their town. This may be due to how information for "inactive" and or tax exempt parcels is managed (e.g. not submitting it with the grand list). In these instances, make sure that as many parcels with missing SPAN information as are known can be provided to the vendor for incorporation, and that all inactive parcels are cataloged.
Improperly classified inactive parcels. Check to make sure that mapped subdivisions are not classified as "active" parcels if they remain held by the owner of an abutting parcel. These would be classified as "inactive".
Cues for Future Improvements. Digital parcel data may be derived from past versions that were either not created with or verified relative to high resolution orthophotography and lidar data that is now available throughout Vermont. Moreover, digital parcel data created in the project when projected over an aerial photography may be the first time that a town has seen their parcels displayed in such a way. In these cases the visual alignment of some parcels may not match their location in reality (or to the aerial image) to a severe degree. While parcel data is not a ground survey, and the parcel project does not set out to modify linework, towns should make note of severe issues with spatial accuracy of their parcel data to help guide future map improvements to be carried out in subsequent updates and with the aid of additional evidence from ground surveys.
What should a town do once they have gone through the parcel mapping project?
First, check the status of your municipalities' data that we have available on this map. A popup will display the parcel data availability, the year of our most recent dataset, and its standardization status when you click on a town. Zooming in to the map reveals parcels that can be visually checked, and clicking on a parcel reveals their attribute information. Standardized parcels display the joined grand list data for the respective year of the parcel update.
Once a municipality has participated in the statewide parcel mapping project, you now have a digital GIS dataset of your parcels that meets the state standard and is therefore joinable to your grand list via the SPAN number. It provides a base dataset on which future updates can be made, whether that work is performed by a vendor, a municipality, or a combination of both. These data are viewable and editable with GIS programs, some of which are freely available.  If you are unsure where to access an editable version of your municipalities' standardized parcel data, please contact VCGI's parcel program technical lead.
You can find a guide and template for issuing an RFP for parcel mapping services here. There is language in that document that guides a mapping vendor on how to maintain standardization and therefore grand-list joinable status. If already present, you should consider adding this parcel data standard language to your existing vendor contracts.
If you are of a municipality that wishes to update your standardized parcel data and maintain adherence to the standard in subsequent annual updates, please contact VCGI's parcel program technical lead. We will likely be able to find a solution for this workflow.
We are working with the Tax Department's District Advisors to coordinate the notification of a municipalities' annual parcel updates. We are setting up a web form that notifies us when an update has been made, whether the update aims to meet the parcel data standard, and more.
We are also working with GIS staff at Vermont's 11 regional planning commissions to ensure our notification of their receipt of annual parcel data updates if and when they occur.
Lastly, we are working with mapping vendors, including those who have participated in the statewide parcel mapping project, to ensure that their data maintains the parcel data standard.
For any further questions, please contact VCGI's parcel program municipal contact.
What is the longer-term plan for maintaining digital parcel data?
The Statewide Property Parcel Mapping Project Report presented to the state legislature in 2019 contains five recommendations to aid the long-term upkeep of a comprehensive, updated, and reliable standardized digital parcel dataset for Vermont. These include:
The creation of a single statewide online survey library for digital copies of survey plats
Requiring the recording of plats for changes in property lines and subdivisions
The integration of parcel data with property information management system software
A maintenance plan with shared state and local responsibilities, and
Transitioning the Parcel Program from VTrans to the Vermont Center for Geographic Information
Included recommendations are to encourage improvements and normalization within the State-required grand list, normalizing the tracking of inactive parcels and condominiums / unlanded buildings, improving how property transfer returns are recorded and submitted to the Tax Department by municipalities, improving the ease of public access to parcel data, adding feature-level metadata to parcel data, adding easements to parcel data, developing and maintaining an online Quality Control (QC) tool, and considering a statewide parcel fabric.
Some of these recommendations, such as the survey library combined with a requirement for it to be populated with recorded plats of line adjustments, could provide the basis for municipalities, their vendors, and or the state to maintain parcel linework updates. Standardized parcel data, being joined with SPAN numbers, allows the regular updating of ownership information when fed with weekly property transfer data that also includes SPAN information.
The combination of these improvements sketch a vast improvement in the quality, coverage, availability, current relevance, and usefulness of a statewide parcel dataset for Vermont.
For Mapping Professionals
What is the VT GIS parcel data standard?
The VT GIS parcel data standard clarifies the technical specifications of the contents, structure, and formatting of Vermont parcel data such that it reflects recording practices and permits joining with the statewide grand list. It is one of other standards and guidelines documents crafted to ensure that Vermont GIS (VGIS) data is compatible with and useful to others in the VT GIS community. If you have questions about the parcel data standard, please contact VCGI's parcel program technical lead.
What is the difference between an "active" and an "inactive" parcel?
Sometimes, when two or more abutting parcels have the same owner, one of those parcels is considered the main parcel, or active parcel, to which a single tax bill is associated with all of the abutting parcels under the same ownership. The others are considered "inactive". In these cases and for mapping purposes specified by the VT GIS parcel data standard, all of the abutting parcels under the same ownership are collectively modeled as one parcel representing the cumulative boundary, with attribution of the active parcel in the active parcels data layer. Attribution of the inactive parcels is to be placed in the inactive parcel layer.  Both active and inactive parcels have unique SPAN numbers.
An inactive parcel becomes active when a recorded property transfer for that parcel occurs. Municipalites tend to track inactive parcels differently, as there is no formally defined practice or requirement for their upkeep. That said, be sure to work with your municipality to confirm if and how they track them, and to incorporate that information if available in the active and inactive parcel layers respectively for that town.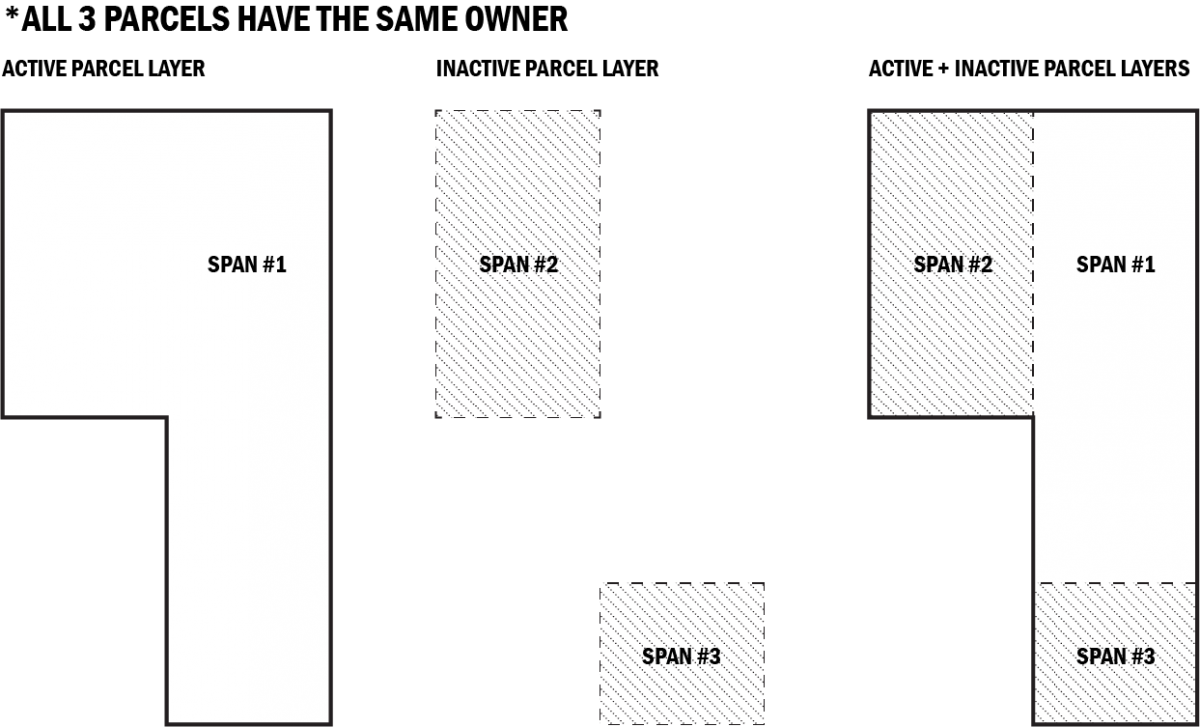 What is the workflow for submitting updated parcels to the statewide layer within the parcel project?
Initial Receipt of Data
Pre-approved vendors who are awarded municipalities after a competitive bidding process prepare and submit data for those towns in compliance with the Vermont Parcel Data Standard. When standard-compliant parcel data for a municipality is ready for review, vendors (or municipalities) upload submissions by municipality to a secure website that employees of the Vermont Agency of Transportation (VTrans) and VCGI have access. The Parcel Program Technical Lead at VCGI records the date of submittal within the tracking database as well as within a VTrans tracking map.
Quality Control
Once data is received and recorded, both the VTrans and VCGI Technical Leads download the data from the secure website and independently run a quality control (QC) tool developed by VTrans for the project. This QC tool ensures that submitted data is in compliance with the Parcel Data Standard.
The following checks are included:
•    Included files are properly named, in the correct file structure, and in either file geodatabase or shapefile format
•    Metadata is included in XML format
•    Attributes contain acceptable values defined in the Parcel Standard
•    Attributes are comprehensively entered
•    Match rate of landed (>0 acres) Grand List entries for the given municipality is >99%, a match that is performed either on the included intersection table, or in its absence, the original data
•    Data adheres to all geometry requirements and topological rules stated in the Parcel Data Standard
The following aspects of parcel data are not checked by the QC tool. For these elements a manual review of the data by each town is required before publishing:
•    The spatial / positional accuracy of parcel data
If submitted data passes QC, both Technical Leads note approval in the VTrans tracking map. If it does not, they send a message to the vendor briefly describing the reasons why the data did not successfully pass. Vendors are then expected to communicate ways for the data to be improved to meet the standard and complete them after conferring with the State's parcel team.
Municipal Review of Data
The parcel team project manager then sends a brief message to the primary municipal contact informing them that the data is close to being accepted, with an enclosed link to the draft data displayed on a web map with markup tools. If the municipality requests minor amendments that are in scope, those amendments will be forwarded to the vendor. Vendors are then expected to clarify ways to improve the data to address the municipality's concerns while still meeting the standard and remaining on time and budget.
In many cases there may be imperfections in the positional accuracy of a town's parcels. This is to be expected—the parcels program does not (nor is it intended to) replace the need for ground surveys. Serious errors in the position of parcels relative to surveys are, however, expected to be brought to the attention of the municipality's vendor after being identified in municipal review and improved by the vendor before publishing.
The municipal review of data process is allotted three weeks. If the three weeks have passed without municipal comment, data that passed the QC tool alone will be considered accepted and a letter of acceptance is sent by VTrans to the vendor and participating municipality. Acceptance and QC compliance is noted by VCGI's Technical Lead, and the data is noted in the tracking spreadsheet as ready for publication.
Publishing
The new and municipally-accepted standardized data is recorded as being ready for publication internally at VCGI within a parcel data tracking spreadsheet. If the source data contains "optional" deliverables such as inactive parcels, easements, ETL tool, or documents, this information is also recorded within the tracking spreadsheet. The standardized data is downloaded in its source format to the VCGI drive. Data is loaded to a map project within ArcGIS Pro, and the Data Assistant add-in (part of the Community Parcels configuration from ArcGIS for State Government) is used to append data to the following records within GDB_PARCELPROG in SDE:
•    Cadastral_VTPARCELS_poly_standardized_parcels
•    Cadastral_VTPARCELS_line_standardized_parcels
•    Cadastral_VTPARCELS_poly_standardized_inactive
•    Cadastral_VTPARCELS_poly_standardized_easements
•    TABLE_VTPARCELS_intersection
Data is then joined to the Statewide Grand List using the intersection table and exported to individual town shapefiles using the Split analysis tool. Individual town data in both source and shapefile data formats is placed with metadata into the respective town data folders, compressed, and uploaded to the server.
The index shapefile (Index_CadastralParcels_VTPARCELS) is updated to reflect the addition of new data (including the relevant data paths for the by-town parcel download tool). The "STATUS" attribute within the flag table (FLAG) is set to "UP" and attributes for relevant data products are set to be updated (set to "True"). On a weekly basis, the Parcel Data Publishing script performs a delete-append operation on matching entries in SDE. This will update services that power apps such as the ANR Atlas and the VT Interactive Map Viewer. Once the new data is available, VCGI's Technical Lead performs a delete operation on the nonstandardized conflated parcel layer (Cadastral_VTPARCELS_poly_nonstandardized) within SDE, as well as deleting the relevant zipped data from the server (and adjusting the conflated zipped file).
Data Products
The following public-facing data products within the VT Geodata Portal are updated by the above workflow on a rolling basis (approximately weekly during the data delivery phases of the Property Parcel Mapping Program):
•    VT Data – Statewide Standardized Parcel Polygons
•    VT Data – Statewide Standardized Parcel Lines
•    VT Data – Statewide Standardized Inactive Parcel Polygons
•    VT Data – Statewide Standardized Easement Polygons (no easements yet; these are forthcoming by individual municipalities as the program evolves)
•    VT Service – Parcel Boundaries – SP (v2)
•    VT Service – Parcel Boundaries – WM (v2)
•    VT Data – Parcels Available by Town
•    Vector Tiles (forthcoming)
Parcel services published by VCGI are covered by VCGI's Life Cycle Support Policy, and thus require advanced notification of planned schema changes (removal of fields) or removal of objects.
---
Questions?
For general program and data access questions, contact Parcel Project Municipal Contact and Program Manager Tim Terway at 802-585-0820.
For specific technical or data management questions, contact Parcel Project Technical Lead David N. Fox at 802-522-3054.