The pace of change in geographic information system (GIS) technology and applications is often difficult to keep up with. The resources linked below are good starting points for learning more about GIS, whether you are an absolute beginner or an advanced user with specific questions.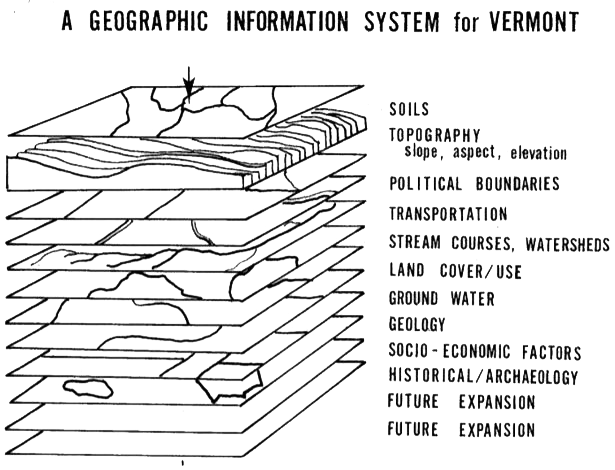 Training and Support
GIS Concepts and Practices
Basic Comparison of GIS Software
Introduction to GIS (from QGIS) *Excellent overview for those just starting to understand GIS.
Introduction to GIS Fundamentals *Similarly excellent overview for newcomers, this time in slide deck, day-long workshop format.
How to Learn GIS resources from GIS Lounge
GIS @ Tuft's Tutorials (comprehensive)
GIS Manual (Paul Cote, comprehensive)
GIS&T Body of Knowledge - University Consortium for Geographic Information Science (comprehensive overview of GIS-related concepts)
ESRI Map Book Library *Excellent resource for inspirational examples of different mapping techniques and mappable content.
Common Design & Engineering Operations (including GIS to CAD conversion of contour data in QGIS and older Arc platforms PDF)
Geospatial and Statistical Data Resources (Harvard GSD) *Includes links to free GIS resources, common operations
Working with the H3 Hierarchical Index System in Vermont (Now available at the VT Open Geodata Portal)
Software & Platform Focused
ESRI (ArcGIS) Training Offerings
QGIS 3 for Absolute Beginners *Video link, ideal companion to Introduction to QGIS resources linked above.
Accessing GIS Resources at the Vermont Open Geodata Portal (2022)
OGC Geopackage Documentation *A potential successor to the shapefile
How to Export SHP to CAD Without Losing Elevation Value Using QGIS *Useful for working with elevation data such as 1' contours
How to Use Vermont Geocoding Services
Forums
How-To Videos
VTGeospatial (VCGI) Videos
A collection of videos and playlists are available at VTGeospatial (VCGI) on Youtube, including playlists on learning what GIS data are available, using QGIS, and using the VT Open Geodata Portal. Also, not a video, but this document on accessing GIS resources at the VT Open Geodata Portal is useful.
ANR GIS Videos
A collection of videos and playlists are available at VTANRGIS (VT Agency of Natural Resources) on Youtube.
VTransTV Videos
A collection of videos and GIS data-related playlists are availabl eat VTransTV (VT Agency of Transportation) on Youtube.
ArcGIS Pro Tutorial Videos
Jarlath O'Neil-Dunne of UVM has put together a playlist of 30+ videos of ArcGIS Pro tutorials that cover everything from getting started to establishing domains to vector geoprocessing to image analysis. Check back on the linked Youtube playlist for periodic updates.
Other Videos
Other Youtube accounts provide free and useful how-to videos, such as HarvardCGA, a GIS Basics playlist, a QGIS 3 for absolute beginners video and a playlist of QGIS tutorials.
Professional Development
Organizations
UNH Geospatial Technologies Training Center - the GTTC offers courses around NH and VT
OSGEO - The Open Source Geospatial Foundation
URISA - Urban and Regional Information Systems Association (NEURISA - New England Chapter)
Conferences
FOSS4G - Free and Open Source Software for Geospatial
NEARC - Northeast Arc Users Group
Education Programs
Geospatial Technologies (GST) at the University of Vermont - Here you will find information on getting started using geospatial technologies, accessing software, finding data, selecting courses, obtaining technical help, learning about research projects, and more. (Burlington, VT)
Northern Vermont University - search course listings for GIS (Johnson / Lyndon, VT)
St. Michael's College - Geography Program (Colchester, VT)
Middlebury College Geography Department manages four laboratories that support digital cartography, geographic information systems, and remote sensing. The dept. offers an introductory GIS class and an advanced GIS class, as well as opportunities to participate in research and other projects. (Middlebury, VT)
Vermont Technical College - Offers Intro to GIS courses (Randolph, VT)
Northeastern University: We are a fully online program and only the 2nd online program to be USGIF accredited. (Boston, MA)
Clark University M.S. in Geographic Information Science for Development and Environment: Clark's STEM-designated Master's in Geographic Information Science for Development and Environment (GISDE) is a joint program between Clark's International Development, Community and Environment Department (IDCE) and Graduate School of Geography. (Potsdam, NY)
Syracuse University's online Master of Science in Library and Information Science program. (Syracuse, NY) Data librarians are increasingly relevant to GIS practitioners. Take a look at an overview of their relationship, which also provides a glossary of GIS terms, software, and example guidance to perform common GIS tasks.
National Geospatial Technology Center of Excellence - a great website that includes a map showing the location of Geospatial Technology educational progams and containing information abotu GIS career pathways.
URISA Listing of Colleges and Universities Offering GIS Programs
UNIGIS - UNIGIS is a worldwide network of educational institutions which offer distance learning courses in GIS. Institutions within the UNIGIS network offer internationally recognised qualifications for GIS professionals and those seeking to enter the field.