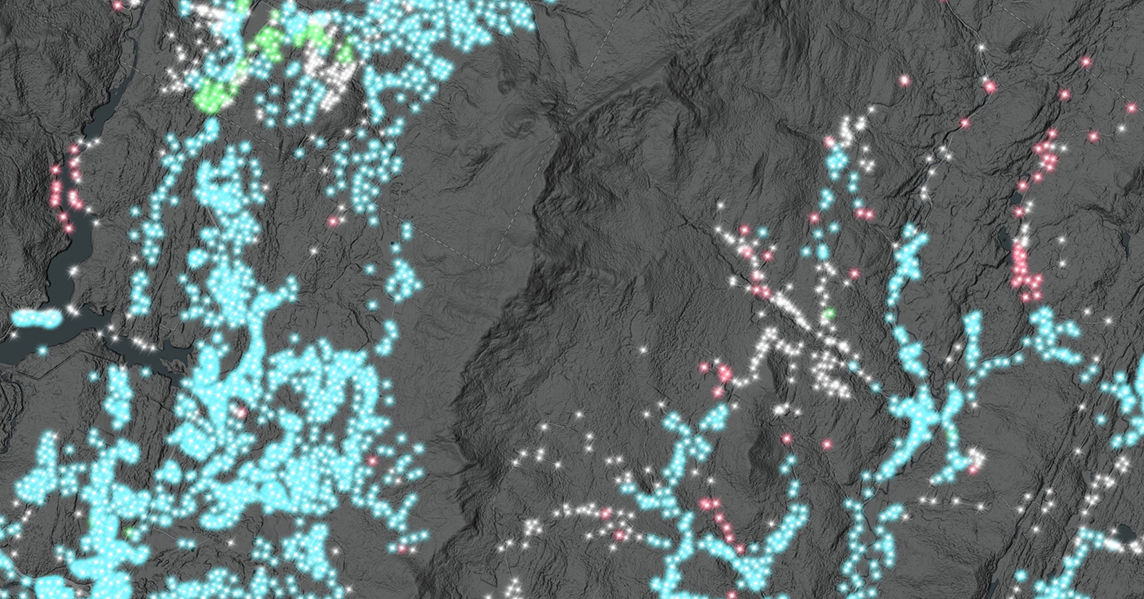 A view of the data with green addresses reflecting 100/100 Mbps service, blue addresses 25/3 Mbps service, white addresses 4/1 Mbps service, and red addresses lacking 4/1 access.
The Department of Public Service (PSD), steward of statewide connectivity data, has recently compiled and published updates to broadband deployment in Vermont. These data reflect the latest understanding of broadband access and performance statewide at the address-level. Individual addresses are classified by four levels of access:
Served at 100/100 Mbps (download/upload speed)
Served at 25/3 

Mbps

Served at 4/1 Mbps

Lacking 4/1 Mbps access
Learn more about 2021 broadband deployment status here and here.
Viewing and Using the Data
The PSD maintains an interactive broadband map that enables viewing the data by location in your browser. Advanced users may also access the spatial data at the Vermont Open Geodata Portal at the Telecom and Connectivity page, or directly here:
Questions about the data should be directed to the PSD.