January 28, 2020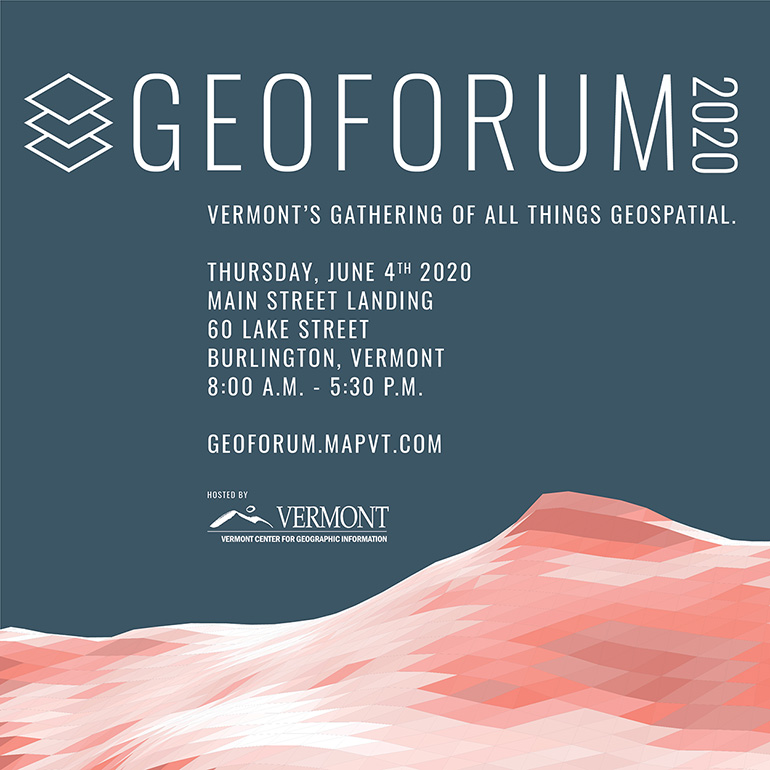 UPDATE 3/16/2020: Public health and safety are of primary importance. We are closely monitoring the rapidly evolving coronavirus situation and are following guidance from the Centers for Disease Control, Vermont Department of Health, and Governor's Office regarding public gatherings. Status of this event will be updated as we learn more.
Save the date!
VCGI and partners are excited to announce this year's geospatial conference to be held on June 4th 2020. 
Expanding on prior events, Geoforum 2020 will bring together geospatial enthusiasts from across disciplines to catch up, share insights and learn from each other. Given that it is 2020, this year's event will focus on seeing clearly the connections across our geographic work. Whether you are a journalist looking to spatialize the story, a GIS professional interested in cutting-edge applications, a citizen looking to better understand a place via maps, or a researcher using spatial data science to clarify a complex issue, Geoforum 2020 has a place for you. Map-making (and map-interested) people across a variety of professions and fields are most welcome to participate.
Event Details:
Geoforum 2020
Thursday, June 4th 2020
8:00 A.M. – 5:30 P.M.
Main Street Landing Performing Arts Center
60 Lake Street
Burlington, VT 05401
Early Registration: $70 (through April 17)
Full Registration: $85 (after April 17)
Registration includes light breakfast and lunch.
Refreshments are planned for an end-of-day reception.
Call for proposals, registration, sponsorship opportunities, award nominations and more will soon be available at: geoforum.mapvt.com
Give us a shout at vcgi@vermont.gov if you have questions.
We look forward to seeing you in June!